SUCCESSFUL DIAGNOSIS BASED ON TECHNOLOGY AND SCIENCE
At DHI Global Medical Group we are confident that the best hair restoration treatment stems from an accurate diagnosis.  For this reason, we have developed the most sophisticated diagnostic system (UDSA – Unique Diagnostic System for Alopecia) that always allows us to offer an appropriate treatment for each type of alopecia.
WHY DID WE DEVELOP THIS SYSTEM?
Research shows that a high percentage of men and women who have undergone a hair implant treatment have done so without an adequate medical diagnosis, thus leaving a very large population unsatisfied with their treatment results.
Taking this into account, we developed a diagnostic system that thoroughly examines many aspects of each patient, in order to deeply understand their condition provide a personalized comprehensive solution.
IN THE UDSA SYSTEM, WE ANALYZE:
Psychological aspects
Dermatological aspects
Mathematical calculations
DHI Alopecia Test
The UDSA System was developed by a team of medical experts, which include specialized consultants, dermatologists, plastic surgeons, psychologists, and endocrinologists.  In this system, each case is examined individually.  Each evaluated aspect yields precise information, which is strategically put together in a conclusion that allows the specialized doctor to propose a hair restoration treatment that best fits the patient's individual needs.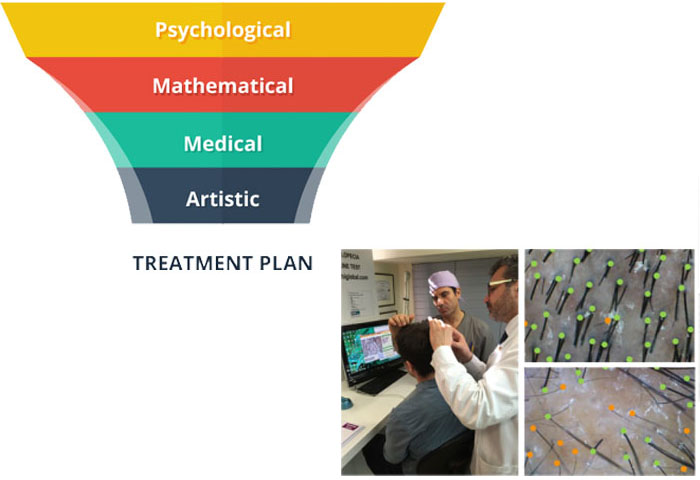 WHAT IS MY TYPE OF ALOPECIA?
The Scale of Norwood and Ludwig allow us to identify at which stage of alopecia a male and female patient are, respectively.  Taking this information we can evaluate the alternatives and build conclusions with scientific support.
Class 3 = Scarcity or absence of hair in the frontal area.
Classes 3, 4, and 5 = Absence of hair in the frontal zone and in the crown area, with ahair band that separatesthe two zones.
Class 6 = Narrow section of visible hair, which extends over the ears and gathers at the nape of the neck.
YOU ARE ONLY A CONSULTATION AWAY FROM RECOVERING YOUR HAIR
Experts in hair restoration since 1970
Hair Transplant is the only permanent solution for hair loss
Natural looking results
Minimally invasive; no cuts, no scars
DHI is an innovative technique which is globally recognized