Hair Transplant in Monterrey – DHI Clinic
DHI's Hair Transplant Clinic in Monterrey is situated on the PLAZA AURIGA SAN PEDRO / Av. Real San Agustin, Zona San Agustín, 66278 San Pedro Garza García, N.L. Local 10 – B The clinic is in the heart of the city and that makes it easy for outstation Patients to visit the clinic DHI's hair transplant clinic in Monterrey provides a wide range of hair loss treatments including Hair Transplant by Direct Hair Implantation (DHITM) technique, Scalp Micro-pigmentation, Eyebrows Restoration, and Beard Hair Restoration.
DHI Monterrey provides gold-standard services in hair transplant with the help of a strong research advisory board and world-class facilities. The clinic is equipped with state-of-the-art facilities, the latest technologies, and infrastructure and is completely customer-friendly. All the procedures are carried out after a detailed diagnosis of the scalp condition of the patient. DHI Monterrey is the only hair transplant clinic in Monterrey where hair transplant procedures are performed by highly-trained and certified doctors end-to-end and not by nurses or assistants.
Like all other DHI clinics, hair transplant in Monterrey is also done using the DHI technique. DHI is a non-invasive, painless technique with no stitches, no cuts, and no scars. This technique is performed using a patented implanter in a single one-step process which ensures correct angle, direction, and depth at the same time, without prior creation of holes or slits. By adhering to strict protocols, DHI provides 100% natural results to its patients. DHI provides a guarantee of graft survival ratio of over 90% implanted hairs.
The cost of a hair transplant in Monterrey can vary according to different grades of baldness but DHI Monterrey is the most cost-friendly clinic as the graft survival ratio is the highest. 37% of our patients are repair cases that were spoiled by other hair transplant techniques and clinics. We take pride in being the best hair transplant clinic in Monterrey providing the city's best hair restoration services.
To book an appointment for a consultation at DHI Hair transplant clinic in Monterrey, give us a call now!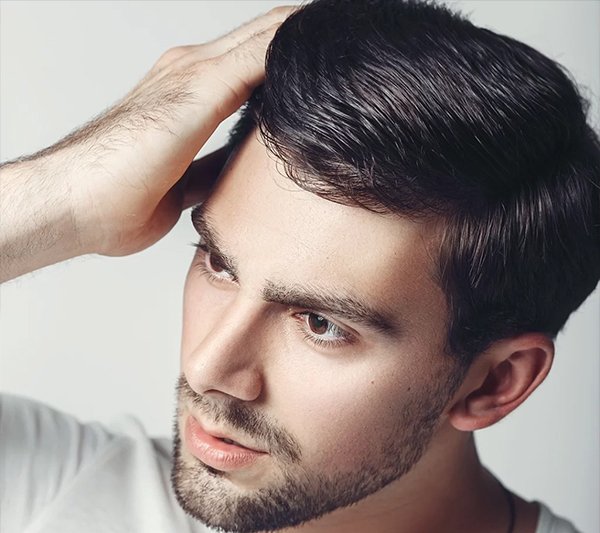 Hair Transplant Surgeon in Monterrey
Choosing the right hair transplant surgeon in Monterrey for a procedure as sensitive and technique-centric as hair transplantation is one of the most challenging decisions that patients face today. The healthcare industry is growing at a rapid pace and there is a plethora of medical practitioners who claim to provide the best services to patients when it comes to hair transplants. However, several factors must be considered for choosing the best hair transplant surgeon in Monterrey. These include qualifications and certifications, expertise and industry experience, and the success rate of hair transplant surgeons in Monterrey.
Finding a qualified and experienced hair transplant surgeon in Monterrey can be an exhausting process, and DHI is emerging as one of the top facilities to help patients find certified hair transplant surgeons in Monterrey with minimum effort. DHI's hair transplant clinic in Monterrey has some of the best hair transplant surgeons in the industry due to a meticulous screening and selection process to ensure that only qualified and certified hair transplant surgeons in Monterrey are associated with the facility.
Moreover, each hair transplant surgeon in Monterrey working for DHI International medical group undergoes extensive training at a dedicated facility for the same to learn DHI's innovative and most advanced hair transplant technique and method that are standardized across the globe for higher success rates and patient satisfaction. Hence, DHI provides patients seeking hair transplants and related procedures with certified and highly qualified medical professionals who follow strict protocols and are up-to-date with the latest industry standards to give 100% natural-looking results with a pain-free and extremely effective process for long-lasting results.
Beard Transplant in Monterrey 
Every human being is unique and hence, it is only natural that every person experiences different levels of growth when it comes to facial hair. Beard or facial hair has been one of the most predominant features associated with men, and while individuals can have their preferences, beard transplant in Monterrey is becoming a popular choice for men who have trouble growing facial hair or experience patchy beard growth.
Beard restoration in Monterrey focuses on fixing and improving this patchy growth pattern or treating the absence of facial hair in men through a comprehensive and specialized process that involves transplanting healthy hair follicles from the back of the head on the facial area for better and uniform beard growth. Beard transplant in Monterrey is emerging as a boon and savior for men who struggle with growing facial hair or have patchy growth due to factors such as genetics, hormones, and even illnesses and medical conditions. DHI provides the best beard transplant in Monterrey by using innovative and advanced techniques to treat and restore facial hair to give patients a confidence boost and desired results.
With the best beard transplant doctors in Monterrey, DHI's beard transplant procedure is one of the most effective treatments available with durable and 100% natural-looking results. Beard transplant cost in Monterrey often depends on the medical facility, quality of infrastructure, certifications, and qualifications of the surgeons, and the number of hair follicles that have to be transplanted. DHI offers some of the most cost-effective beard transplants in Monterrey that give patients amazing results that last them a lifetime.
Why You Should Opt for Hair Transplant Treatments?
Hair loss is one of the most comment problems that men and women in Mexico face every day. It can have a profound impact on an individual's self-esteem, confidence, and overall well-being.
Many factors can lead to hair loss problems, including bad living conditions, poor dietary habits, genetic conditions, and so on. While earlier there was no turning back, rapid advancements in medical technology have made hair transplant treatments possible.
When conducted with proper care, technique, and expertise, hair transplant treatments can prove to be highly effective. They are capable of providing individuals with the opportunity to regain a natural-looking hairline and restore their youthful appearance.
A hair transplant is the only permanent solution to the global hair loss problem. While you may look for alternatives like hair extensions and other non-surgical hair restoration techniques, they won't give you the natural appeal and permanence of transplantation procedures.
That is why, medically speaking, a hair transplant should be your top priority, especially if you have been struggling with hair fall or hair loss problems for a long time now.
Unfortunately, such cosmetic procedures have always been inaccessible to the general public, especially because of the high expenses they incur.
But with the advancements and revolutions brought in by Direct Hair Implantation (DHI), hair restoration techniques have become vastly more affordable for the general public. Through the use of patented tools and technologies, we aim to deliver a professional and efficient experience to everyone who needs a hair transplant.
So, if you are looking for the best hair transplant in Monterrey, you have come to the right place.
Clinic Address:
PLAZA AURIGA SAN PEDRO / Av. Real San Agustin, Zona San Agustín, 66278 San Pedro Garza García, N.L. Local 10 – B
Monday to Saturday
7:00 a.m. – 6:00 p.m.