Buying hair products isn't rocket science, but choosing the wrong ones may cause you to have some issues with your hair care routine. Suddenly you are struggling with oilier or dryer hair than usual, and you have no idea what is causing it. While many changes in our hair may occur due to modifications in our diet, medication, emotional health, chemicals, or hormonal imbalances, a big part of them are caused by the products we use in the day to day basis while styling or showering.
When visiting a store, we find ourselves in front of a whole aisle full of hair products for different purposes: hair growth, volume, moisturizing, strengthening (and the list goes on!). So, how to choose one between all the options available? Well, the main key is to know your scalp type:
TYPES OF SCALP
The scalp is, basically, the skin that covers our head. It contains more hair follicles and more sebaceous glands than any other part of our bodies. Since the scalp is where hair follicles – surrounded by connective tissue, the one responsible for nourishing the hair and helping it grow – are stored, it is essential to recognize what type we have to be able to work with it. Here are the main scalp types, how to identify them, and what products are recommended accordingly:
NORMAL
You are one of the lucky ones, as this is the least common scalp type. Here's a list of characteristics you'll surely find familiar:
Healthy hair with minimal hair loss.
Manageable hair without the aid of many styling products.
Your hair is usually smooth, healthy, and soft to the touch.
Your hair doesn't tangle easily.
Your locks are strong, with good elasticity.
You can leave your hair unwashed for two days and is still pretty soft and smooth, without getting too oily.
What products should you use for normal hair? PH balanced or sulfate-free to maintain a healthy amount of natural oil in your scalp. Avoid hair coloring products to keep your hair free of harsh chemicals.
DRY
Your scalp doesn't produce enough oil to moisturize your hair. The most noticeable signs include:
Your hair is more prone to breakage.
Frizzy, unmanageable hair.
Frequent dandruff.
Dull looking hair.
Itching sensation in your scalp.
What products should you use for dry hair? Go for moisturizing or hydrating products, like masks or deep conditioners. Avoid anything containing alcohol or labeled as fortifying or volumizing, as these types of products can make your hair even more untamable.
OILY
Your scalp produces excessive sebum, causing your hair to feel greasy. Have you experienced any of these symptoms?
Your hair tends to get oily within a day.
Your hair strands stick together.
Oily T-zone.
Ingrown hairs and pimples in your scalp.
You often feel like your hair has a strong, distinctive smell.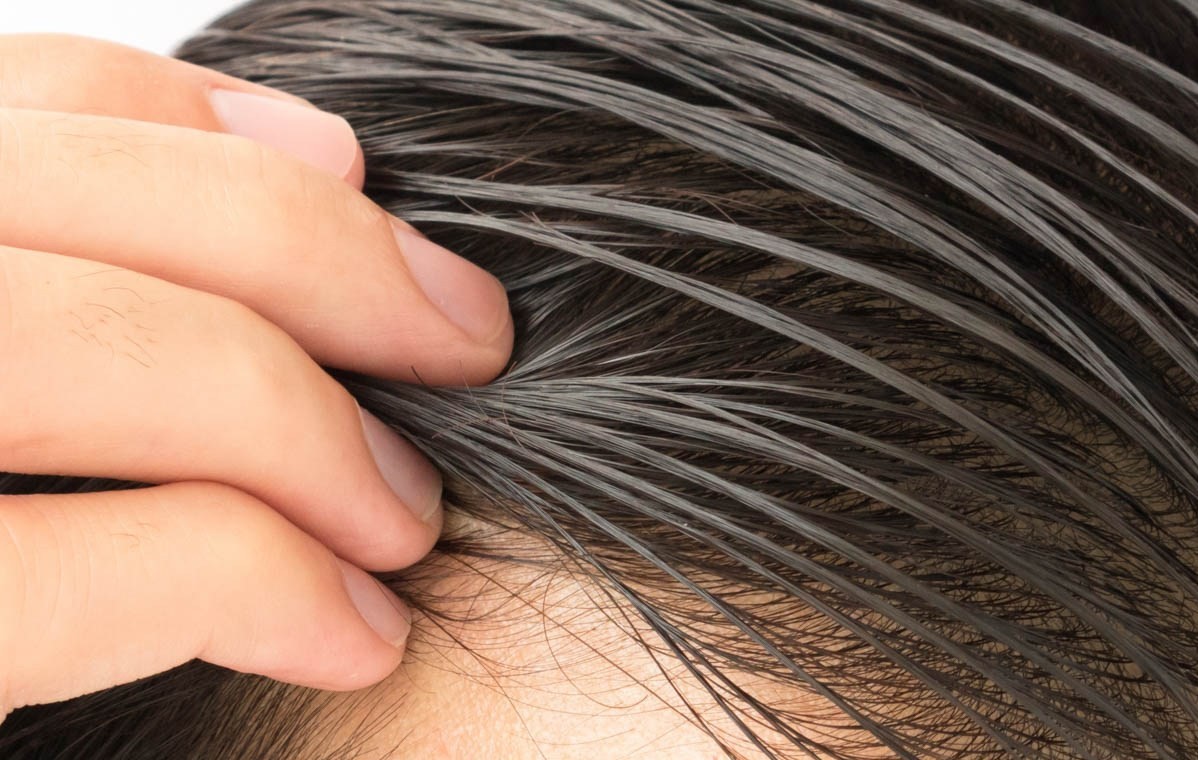 What products should you use for oily hair? Clarifying and fortifying shampoos are great, as well as products with diluted acidic concoctions of lemon, vinegar, or cider. Stay clear of products that are hydrating or moisturizing, and avoid touching your hair.
Keeping a healthy scalp will improve your hair growth. If you are looking for effective, medically-proven ways to have thicker, stronger hair, talk to one of our hair restoration specialists in Tijuana today. Consultation is FREE!