Spending more time indoors, away from sun exposure and pollution may sound like a good scenario to improve one's hair health. But for many people – and contrary to expectation – this lockdown has meant going from beautiful, luscious hair, to a dull and increasingly thinner hair. If this sounds familiar, keep on reading as we will help you identify the top 3 factors why hair loss may be happening.
Stress
The COVID-19 pandemic arrival completely changed our lives, and adapting to those changes hasn't been easy for most people. Everything from being confined within four walls and having financial challenges, to figuring how to work from home while taking care of your children at the same time and, on top, accepting the "new reality", can result in stress and anxiety.
Stress causes a hormonal imbalance, which is known to trigger hair loss by "pushing" the hair follicles into a "resting" phase (this condition is called telogen effluvium). What can you do to relieve stress and anxiety? Here are some ideas:
Exercise
Practice yoga.
Do a guided meditation.
Spend time with your pet.
Learn something new (food recipes, crafts, art, etc.) or reconnect with an old hobby.
Read a book or listen to an audiobook.
Make a self-care routine.
Talk to a friend or a family member about how you feel.
2. Poor nutrition
For many, internal changes are just as challenging as everything happening in the world around them; these include how we relate to food. The lockdown has allowed people to do at-home cooking. Still, for some, this has become the perfect opportunity to "let loose" and eat carelessly, either because they now have easier access to certain fast foods and snacks, or due to stress or, simply, boredom.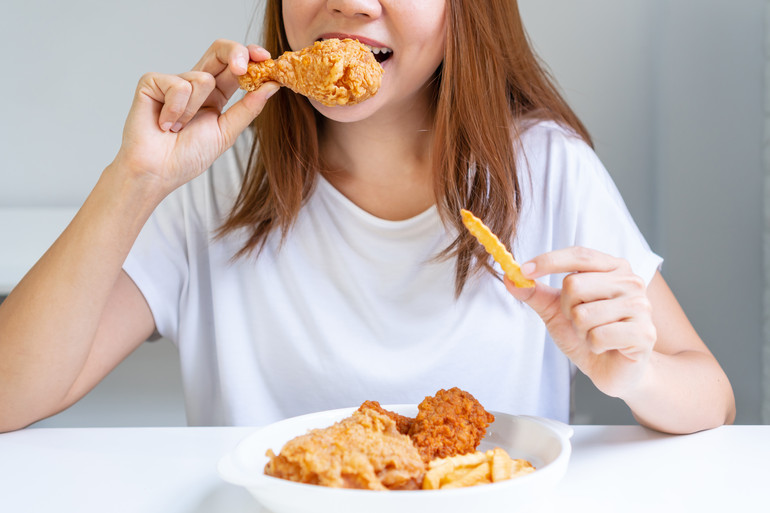 Carbonated drinks, sugar, alcohol, and excessively greasy foods have ingredients that can discourage hair growth. So, how to nourish your hair from the inside out?
Incorporate these foods into your diet: salmon, eggs, spinach, greek yogurt, oatmeal, lentils, peanuts, and avocado – anything containing a good amount of vitamins B6 & B12, folic acid, omega 3 and protein.
Keep unhealthy food out of the house.
Do a weekly meal prep routine.
3. Lack of proper personal hygiene
Maybe confinement has made it difficult for some to find the motivation to properly take care of their hygiene when it comes to hair, letting multiple days go by without washing it because "oh well, I have nowhere to go anyways". The problem is that greasiness and product-buildup can negatively affect your hair by clogging the follicles.
Regular hair washes are necessary to control sebum production. Here are some tips to promote a healthy scalp:
Wash your hair 2 to 3 times a week.
Use moderately warm water.
Choose a shampoo that suits your hair type.